last week I lost my phone's dial tone and after it was fixed i lost my broadband connection too, with my computer prompting a message that it did not detect a dial tone. i've been calling my service provider for almost a week now and still they haven't fix the problem. I tried connecting it now but it still has the same problem, at the moment I'm using the dial up connection now, just to post and give updates to my projects and Sam's too. I do have a lot to show now
Here are a few of Sam's projects that she did in the office so she won't get bored: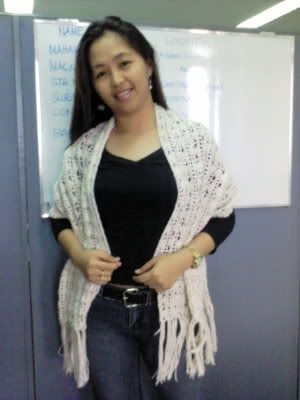 a shawl she did in shells using 2 strands of anchor white with metallics, we got the pattern from one of the crochet magazines i bought we just adjusted the size.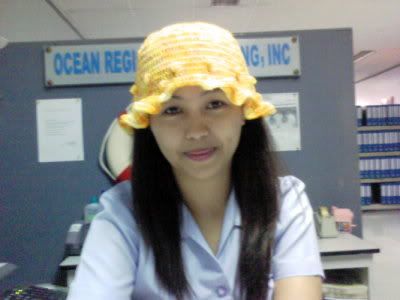 this hat is just really right for summer and it was supposed to be hers until one of her boardmates saw this and bought it. she used cannon variegated in yellow with this hat and we made the edge a little ruffled. i did a basic pattern for this. Sam has made around 3-4 hats, some of which i can not show since she gave it away to friends.
I'm a proud crochet teacher! isn't it? here's a panoramic view of the summer hat:

photos are taken with my sony erricson K600i mobile phone.