Wednesday, October 18, 2006
Monday, October 16, 2006
hello to all my fellow crafters. I'm still here in Cebu and i wasn't able to post anything for more than a month. I still have to prepare myself my luggage and things that i need to bring for my trip to Korea. I also have been crafting even though i haven't posted anything of what i've done. i wonder what's wrong with my mobile phone when i need to transfer a photo of a pouch bag i made for my sister's friend to the PC, and my PC cannot detect it. i'd really love to post that project because i love the color which is in black and pink. it's still on my phone anyway, and i haven't deleted it yet.
anyway, i have done a lot during the month:
here is a capelet that i'm supposed to sent to Yumi,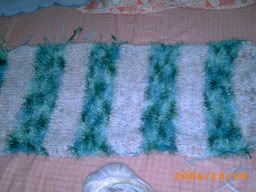 but now i wonder if i will find the time to mail this to her to Japan, since i still have to find time to prepare myself also. by the way i'm schedule to leave for Korea at the end of the month. this is a knitted capelet in eyelash and mohair yarn, which i got from one of my swaps at crochetville. i've combine two balls of both yarns. i think it is a good idea since 2 balls won't be enough for a capelet. it's still a WIP as of now but almost done.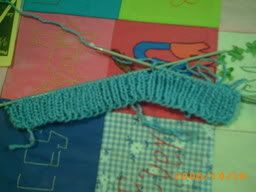 this one is also a knitted cap i started for Sam, in bernat cotton tots in blue. this is another of her request.
and this one is a crocheted hobo bag for Chai, pattern from moda dea: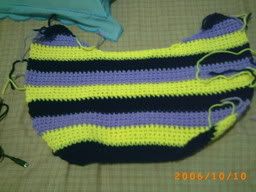 i've finish both sides of the bag and just need to finish it's handle and sew together both sides.