At this moment, I've finished a pair of legwarmers for Yumi in the same color as the cap, scarf and wristlets. Here's a photo of it: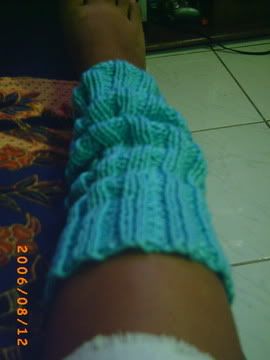 I plan to make her either a bolero, capelet or poncho. I'm thinking which one i could finished in two weeks since she will be leaving by 3rd of september. Mostly probably, I'd be able to finish a capelet in that short time i have left.
I hope this will also fit for Yumi since she has skinnier legs than mine and it seems when i fit the legwarmers, it just fits right on my legs.
i wish i could make more garments for Yumi, but since I don't have much time now i would probably send her more handcrafted garments for her 3 year work contract in Japan.