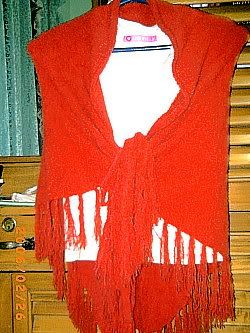 This is a red shawl that I got at Baguio during my short trip there. It was only for about $2. I thought i really have to buy it because i love the yarn that was used in this shawl because it is so soft besides using it during the cold weather at Baguio. I just wondered where these shops in Baguio got all these gorgeous imported yarns, which i know i wouldn't find at my craftstore.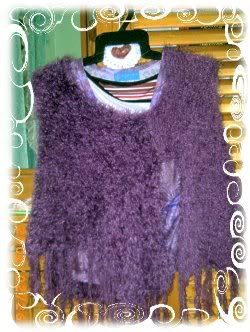 this is a poncho in my fave color, which i coudn't resist too because of the soft yarn being used in the garment. it was only $2. there are really a lot of nice and cheap buys to find in Baguio City. I also bought two caps there in blue and green which are worth only $0.50
TEACHING SAM TO CROCHET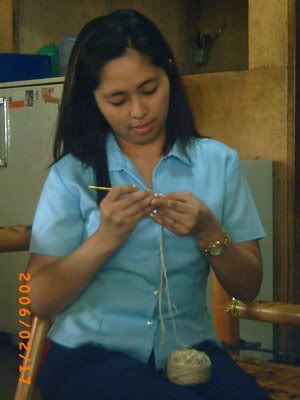 Sam and I spend our lunchbreaks crocheting for most of the time now...glad that someone is doing the craft with me. Sam is just a bit ambitious for a beginner. I always tell her to do small projects at first but she likes to do big ones right away. The one she's doing in the photo is a scarf that she's sending to a friend who left for China for a business trip. Then she saw me do some scrunchies and she did also, but even before she can finish one she already felt that scrunchies are boring. According to her it's boring because she just keeps on going around the elastic. Comparing it to a scarf which is lengthy. Well at first i didn't really want her to do that srunchie because she also wants to put those little flowers called spangles and it is being used with a size 10 thread or the acrylic thread that i used also which maybe of the same size as the size 10. I know that thread shouldn't be recommended for beginners, but well most of the time she wants to have her way. I don't know if she still wants to make a single scrunchie after she feels that it's boring and after buying a pack of 30+ goody ouchless.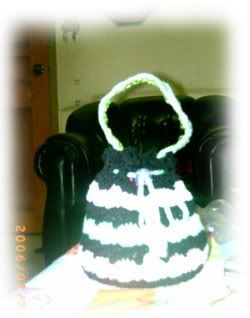 this was a bag i made for my mom, which also seated for a long time in my room. now it's done with a handle and drawstring.