I had a day tour at the City of Vigan together with my friends from Cebu, and my mother also came along with us. It was an 8 hour drive from the city of Manila. We were toured around the city on a horse - driven - wagon (kalesa), which charge us around P150(pesos/hr) that is about $3 an hour.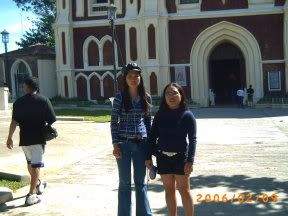 > this was our first stop.this is me and my friend Yumi. We took this photo in front of the churchgrounds of the Agustinian Church in Vigan City. Vigan has a very reach spanish history and what I love about the city is that they have preserved the old spanish houses/settlements, unlike Cebu. I love this City because of the windy climate it has.
Most of the restaurants there are renting the old houses along the streets of Vigan. They have preserved and restored the houses by paint and it all looks new at the outside, but when we went inside at one of the restaurants there i am amazed at the old structures that the people there have preserved!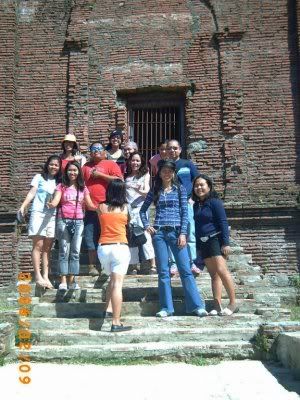 > i think this photo was shot also by my mom. I like the way Yumi posed here. She looks like a model with her height and skinny body.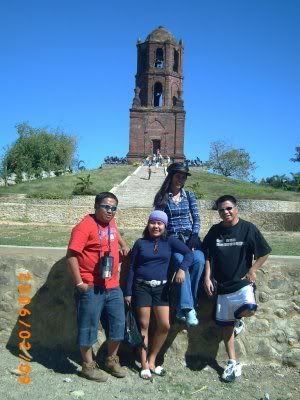 > this is a bell tower just located beside the church. Maybe this wad constructed during spanish times too which i do not actually know for sure, but it does look very old as i saw the bricks. I think this one is a nice shot that my mom got for us, as she usually gets a crooked or blurry one. I've been wearing my crocheted cap on and off because of the windy climate here.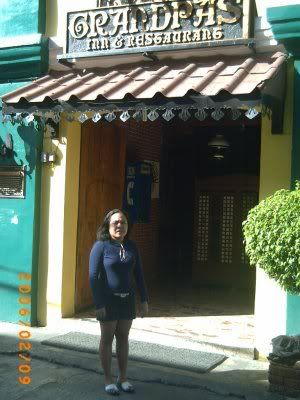 > this is where we lodge through our one day and night stay at Vigan, just located along the old houses too that stand on the streets of the City. Here we found a lot of souveinir items like bags, ashtrays, keyholders, t-shirts, etc. and also a lot of antique furnitures around here. A lot shops sell antique furnitures around here.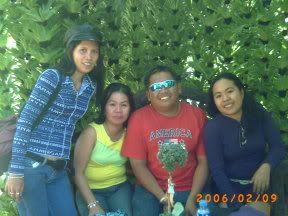 > this is the hidden gardens, which was our last stop. I love this picture too because of the backdrop, which are hanging plants. i think everyone had a pose here too. in the photo are Yumi, my mother, Carlo and me. this place is a plant nursery and also they sell landscaping materials like stones, soil, and a lot of other things related to gardening.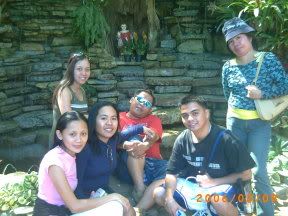 > this one is also at the hidden gardens at one of their landscaped fountain. it is a very cozy place to stay and just look around the plants.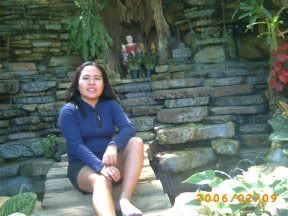 >...just a solo shot of me at the fountain.
Well, we all had a very nice time at Vigan. i spent all my money, but it was well worth it to see the northern side of my country, which I think I still have a lot to discover of beautiful places around. We did all feel like we went in some other country too each time we thought we've reach this far and each time we all thought that there is still so much to see around.